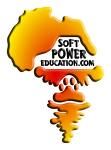 Charity Number: 1098936
Softpower Education is a UK registered charity, working closely in the community based in Jinja, Uganda.
We help the local community to repair and redecorate the schools in the area as basic education is what Uganda needs in order to improve the standard of life for the people.
Having initially built two pre-schools for Aids orphans, and are still involved in a project to refurbish 20 Government Primary Schools, up to Government standard.
Having built a Special Needs classroom complete with books and materials, resourced a Teacher Training Centre, held an International Arts Project and at several sites run a Youth Training Programme for young males within the community.
We are 100% charity and every single penny donated to Soft Power Education goes straight back into our projects enabling us to make a difference.
We provide volunteer opportunities for people worldwide to live and work abroad in Uganda whilst offering the following experiences:-
Living within the local community
Rewarding challenges
Experiencing new cultures
Working alongside the locals on building or educational projects
Hosting creative and sporting workshops
Making lasting friendships