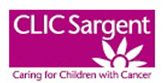 (Registered Charity No. 1107328) Two charities, CLIC and Sargent Cancer Care for Children, merged in January 2005 to become the UK's leading children's cancer charity.
Both have a rich history of excellent care and support. Clic Sargent is the only organization to offer them all round care and support for children and young people with cancer and their families:
During Treatment – providing specialist nurses, doctors, play specialists, Homes from Home;
In Hospital & At Home – offering specialist social care and family support in the community – specialist youth services, holidays, grants, helpline;
After Treatment – helping survivors, supporting those bereaved, research.